Prom Dresses 2010 - Buying an Affordable Prom Gown
By
Bella H
It is prom season - and you need to find a dress as soon as possible. Unfortunately, due to the economy - your parents have given you a budget that is less than what you initially hoped and planned for. Now you face a dilemma similar to thousands of other teens across the country, how can you find the most affordable prom gown - without looking cheap and tacky?
For starters, it is important for you to know that you are not alone in this particular situation. As I said, thousands, if not hundreds of thousands of parents are facing economic troubles. So do not be ashamed, and remember that the most important part of the event is for you to have fun! Now that we have gotten that pep talk out of the way - let me give you a few tips on finding affordable gowns for your junior or senior prom!
1. Think outside the box: Creativity and a little ingenuity can go a long way when you are under financial restrictions. Ask your older sister, cousin, or even neighbor if they have any formal gowns sitting around that they can give to you.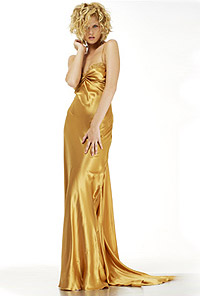 If you do not feel comfortable with just taking something for nothing in exchange - work out a bartering deal. Perhaps you will babysit for a month as repayment, or clean out their basement or garage. Once you have the gown, be innovative with it - you can shorten in or add embellishments. If it has sleeves or straps, take it to a seamstress and have them turn it into a sleeveless or strapless gown! With the right dress, the possibilities are endless and by putting a little bit of work into it - you'll definitely have the most unique dress at the dance!
2. Try vintage stores: Vintage and retro looks are always popular options for proms and formal events. Visit your area vintage stores and consignment shops in search of your perfect formal gown. These stores are known for having hot designer dresses for super cheap. If you find a dress that you love that turns out to be a size two big, or slightly damaged - negotiate an even larger discount and take it to the seamstress for alterations and repairs. Play up the old Hollywood glam theme with perfectly coiffed curls, dramatic make-up and rhinestone accessories.
3. Shop Online: The Internet is one of the best sources to turn to when you need to find a cheap prom dress. Virtually every online merchant selling formal gowns has a section for "affordable" or "cheap" options. You can save yourself some time by narrowing your search terms with certain keywords. For example, if your budget is two hundred dollars, do a search for "prom dresses under $200". Doing this will show you all the results for websites that have dresses within your budget. Remember this - when buying discounted clothing online, they usually come with a no return and no exchange policy. This means that all sales are final. If the dress is ill-fitting, or the wrong color - you'll just be out of luck.