For we plus size women, shopping for the perfect wedding dress can present a challenge. Truly though, most rules are the same for any woman.
The first, and most important tip is to begin your search six to nine months before your wedding day. It may take time to find the perfect dress and then you must allow more time for any alterations.
The second most important consideration is to set a budget. Don't forget about accessories!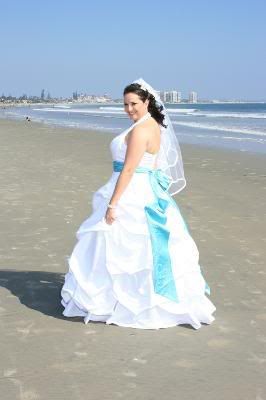 When shopping, know what looks good for your figure. A-line dresses flatter most voluptuous figures, skimming over the hips. V-shaped necklines are flattering as well. Avoid full ballroom skirts and tea length dresses. The former may add more bulk to a round figure and the latter can make a curvy woman appear squatty.
Try on several gowns. A dress that appears unflattering on a hanger may very well be stunning on a body. Consider, also, the view from the back. This will be what your guests will mostly see. Think carefully before choosing a very long or large skirt. These can be cumbersome in small areas.
Will the gown you seek be for a winter or summer ceremony? Choose the fabric accordingly. For summer, go for light fabrics such as lace, chiffon or silk. For cooler weather months, consider brocades, velvet or satin. Will the wedding be formal, semi-formal or casual? Choose fabrics and dress styles accordingly.
Size does matter! Wedding dresses tend to run small. Always buy a dress in at least a size larger than you normally wear. This will allow for any weight gain and is easy to alter to fit as your big day draws near.
Be comfortable. You will be standing, sitting and dancing in your gown. If it is ill fitted or too tight, you'll be worrying with your dress and not enjoying your day. You can look beautiful without suffering for it!
Shopping for a dress does not need to be stressful. Take a few friends, who will also serve as advisors, and make a fun day of it.
By:By Nikola Marshall