Poison Oak Rash picture
laidbackliam
Aug 7, 02:34 AM
this is me going out an a limb here.

but do you think the desktop lineup could become this?

Mac mini (2 models)
the Mac
iMac
Mac Pro

"if" this happens, which i find unlikely based on pure speculation, the mac mini could keep yonah processors, the Mac could get conroe, the iMac could get conroe, and the Mac Pro could go balls to the wall with 3.0ghz woodcrests.

the Mac would be the affordable tower that people have been wanting. yet another reason for people to switch. a unit that works, that has an upgrade path, but doesn't cost 1500+.

again, i don't think this will happen at wwdc, but i do think it would be cool
---
A poison oak rash picture,
bilbo--baggins
Aug 25, 05:04 PM
The PowerMac G5 I bought last year had a fan that constantly 'clicked'. It took several calls to AppleCare to get it sorted. Before you got anywhere you had to speak to someone that could barely speak English, who you had to humour by following their instructions to reboot the computer, reset PRAM etc. Then they wanted to have a company collect my Mac and take it away for repair. Only if you're really stubborn do you actually get them to send you the part to fit yourself. Even then they couldn't agree on whether the old fan needed to be returned. They took my credit card details in case I didn't return the old fan, then the info with the new fan told me I didn't need to return the old fan. Then I phoned them to clarify this, and they told me I must return the old fan or I would be charged. Totally baffled, I rang yet again and this time was assured that I didn't need to return it. Complete shambles.

It's irritating from a personal point of view. But what really disappoints me is that this is the kind of service new customers are getting. So much for the halo effect - apple are tarnishing it themselves. I'm a long time Apple fan and a few buffoons (who have probably only worked for Apple for a few months) won't begin to damage my loyalty. But can the same be said for first time iPod or Mac users?
---
Poison ivy rash, with red
As I is naught en Amerikan canned sumone plz tell mi wen tanksgifting is? :p

lol, 1337 sp3ak FTW!!
---
Poison oak rash
darkplanets
Mar 31, 10:56 PM
You mean AntennaGates 1 & 2, iOS 4 on iPhone 3G, the light bleeding on the iPads before shipping, the Macbook Airs crashing when using iTunes aren't examples of Apple cutting corners to get a product to release? I will buy Mac probably for the rest of my life so long as the company is in business and putting out great products with great operating systems.

And they didn't spin it perfectly. Steve Jobs told consumers they were holding the phone wrong and pretended the problem would go away.

I feel like Apple fails more on the hardware front than the software front, especially with the iDevices. Regardless, both companies have flaws, but having your next gen OS NOT work on phones is a big uh-oh. Obviously they'll optimize it; perhaps they'll skip honeycomb for phones, and then come out with a unified "faster" approach for both tablets and phones.
---
Poison oak rash on my hand.
rape and paedophilia both involve lack of consent. Although paedophilia has to do with that the mind is attracted to pre-pubescent children in the same way that homosexuality causes attraction to the same sex. Both cases are untreatable.

Huh?

Wouldn't it also, then, be like the same way that heterosexuality causes attraction to the opposite sex?
---
Poison ivy, oak, and sumac are
If anything this is Google telling the manufacturers to get their crap together. All of the custom UI's need to be updates in some sort of a Google approved Roadmap.

IE: Google releases Android 2.3.3. All manufacturers have X amount of time to port their Custom UI's (HTC Sense, TouchWiz, etc.). What this will do is take the pressure off of the "fragmentation" of Android and place it in the hands of the real culprits... the manufactures, HTC, Samsung, et al.


But I thought customization was the reason that so many people liked Android? All I ever hear about is custom wallpapers, custom themes, custom ringtones, custom grids, custom flash, custom this and that etc etc, and that the user is given a choice unlike with iOS.

It sounds like Google is now finding that to be problematic.
---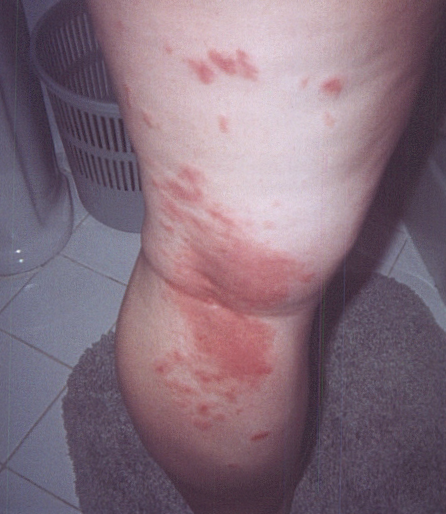 pics of poison oak I have
The mermon G5s should be out before summer.
---
Varicella
Amazing Iceman
Mar 31, 05:28 PM
I really do think that Android/Windows is a good comparison. At least, in terms of getting Android out there on as many different phones as possible. And while that certainly worked, it doesn't really mean that Android is the best OS because it is slightly different depending on the hardware it is on. Which brings up a clear advantage of iOS: It's written specifically for the hardware it is on.

What matters most is quality, not quantity... right?
---
Plant of the Month
While I usually don't go for boycotts this time I would make an exception, if this was to go through I'd boycott buying anything from Universal. It wouldn't matter if it was an artist I had listened to for years, I'd simply never buy anything they release from that point on.

I'd boycott Apple ipods too. I wouldn't touch a zune either but...that's for a whole lot of reasons.
---
poison oak rash vs poison ivy.
admanimal
Mar 22, 12:52 PM
Meanwhile, Apple is drowning in orders and battling light leaks (http://www.electronista.com/articles/11/03/22/buyers.complain.of.multiple.faulty.replacements/) in displays. If the quality cannot be improved expeditiously, would-be customers may investigate the competition. :(

Yeah, with problems like that they are destined to fail. :rolleyes:
---
Poison oak rash on my inner
dornoforpyros
Sep 13, 07:13 AM
DAMN :eek:

so 2-3 years from now are people going to be asking "do I need a quad core or an 8 core macbook? oh yeah I'll mostly be surfing the web and maybe editing a photo once and a while" :rolleyes:
---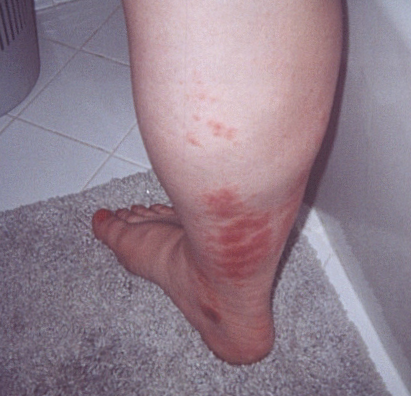 pics of poison oak I have
If Apple makes a phone, I will order one on the spot. If the interface is as well thought out and simple as the iPod, then it will be a smash hit.:D
---
Poison ivy as the name
TheAnswer
Jul 14, 09:00 PM
I'm going to guess that the power supply on top will be like the MDD models, and therefore add rooms for more hard drives and optical drives.

Either that, or the guy that made up these specs figured that mimicing the MDD structure would add street cred to the rumor of the two optical drives.

Either way, between the case redesign rumor and the Conroe vs. Woodcrest rumor, looks like WWDC will really boost the credibility of one rumors site and smash the other's credibility to pieces (unless they're both wrong).
---
Poison Oak Leg Rash
So - are you inferring that Windows 2000 or Windows XP never blue screen? Because (if you are) that's a load of crap. I've seen blue screens in both OS's. Granted it's usually tied to hardware only, but it still happens. I've had an external USB drive blue screen in XP every time I turned it on, tried on 3 XP computers. Hardware fault, no doubt. Lately my HP Laptop dvd drive has been causing XP Pro to blue screen every other time I insert a dvd-r. Again - hardware fault.

Otherwise are both OS's stable? Damn straight. But problems do occur and I hope you're not suggesting otherwise. No OS is without its flaws.

Huh? When did I say they never, ever experience any crashes whatsoever? Good god, I have never seen such a collection of mind-bendingly literal-minded people in one thread. Yikes. No idiot would ever say they never ever crash. As was painfully obvious, I was comparing Mac users' perceptions of older Windows OS's to the more recent ones and saying their impressions were inaccurate. I've been dealing with OS X kernel panics and CarbonLib issues all day, but I would never suggest things are as bad as in the OS 8 days when you'd get that little "bomb" at the system would shut down.

It's already happened, just not in as a melodramatic way as you suggest (back to 1GHz? geez). AMD took a small step back, Hz wise when they introduced dual core, though it still advanced their "+" processor ratings I suppose that few noticed the actual clock reduction. Intel took a major step back Hz wise between Netburst and Core 2. The 5000 and 5100 series Xeon CPUs demonstrate this, you can get a Dell precision 690 with 3.73GHz Netburst based chips or the same 690 with 3.0GHz Core2 based chips.

One thing I've noticed is that store ads no longer quote GHz like they used to, but rather processor model numbers. Makes sense: most people will not bother to investigate further, but if they did see the GHz numbers of Pentiums on the same sale ad as those of Core 2's, they might not be so hot on the latter. And please, everyone for the love of god, do not treat me to 5 replies in which you remonstrate me for not getting that the Core 2's are actually faster - I GET IT.
---
A case of poison oak about
Weird... I think there's more involved in this than we can imagine.

One thing that comes to my mind is the possibility they were holding their stock to sell it outside the country, as there's been a high demand and higher value to sell overseas.

Yeah... BB could put the extra iPad's up on Ebay and pocket the extra cash.
Not a big deal if its just done at one or two stores, but if its organized at the
corporate level (with lots of creative accounting/reporting in-between) they
could have millions of dollars going straight to their bottom line (or lining
some unscrupulous executive's pockets).

Were those above-quota iPad's being held in-store and sold the next day,
or were they being forwarded/rerouted to another BB location?

I'm still planning to buy my iPad from my local Apple store.
---
ivy (or poison oak) rash,
ten-oak-druid
Apr 11, 01:09 PM
Iphone 5 on Sprint?
---
poison oak rash photos. poison
I'm not trolling, this is an honest question. But isn't a Final Cut pretty much worthless for commercial use without a way to put the results on Blu-Ray?

Nobody's using Blu-Ray, in my experience. It's just another way of sucking money out of home consumers. Everything's done online in terms of delivery...
---
Poison Oak
If it is going to be a 4g/LTE iPhone then this works for me. I have no complaints with my iPhone 4 so waiting another 4-6 months is fine with me.
---
skin rash2 Skin Rash
:eek: :eek:

What's planned after that? 16 cores on a chip? Seriously?? :confused: :confused:

yeah, who would've thought we're having quad core 4 years ago.
---
nbaker756
Aug 25, 09:20 PM
my dad bought a new 17in MBP and got it a week after it came out-couple days later, the battery would stop working and wouldnt be recognized by the computer-i called apple and by the end of the day i had a box sent to send in the computer-3 days later it was back with a new battery and everything. great service. also i had an airport problem-i brought it into the apple store, they looked at the airport, and in 20 minutes replaced it with a new one for no cost because i had applecare. i feel they have great service next to others, such as dell who i have called before and had a crap load of trouble...
---
aswitcher
Aug 27, 05:17 AM
What would be competitive:

SNIP
iMac 2.4-2.66Ghz Conroe, X1800 and LCD res upgrade
Mac Mini: 1.83Ghz Allendale (going to be much cheaper than Merom, so if they can they will put one in) Integrated graphics
Mac Pro: Dual 2.0-3.0Ghz Xeons

I agree, it would be really good if Apple did what they did with the Mac Pro, and made sure the next updates used the best appropriate tech available.

Alternatively, they should release a grunty half sized Mac Pro for those who need more power and customisation, but dont need a full on work station.
---
gerrycurl
Jul 14, 06:00 PM
the question still remains--will the powermacs be able to use standard, off the shelf, pc video cards?

i know that you couldn't do so in the power architecture due to the bios irregularities. now that they're using efi, does this still mean we have to buy mac based cards? because that's really the question nobody seems to ask and nobody seems to have an answer for.

what this new mac workstation will mean is the chance to upgrade your macs based on commodity parts. no more mac tax for hardware. i remember when the radeon 9700 was king, the price was around $299 for pc version and $399 for mac version.

think about this, the ability to upgrade processor, video card, and sound card without having to pay the apple tax.

that's what it really comes down to. the speculative "good" version of the mac pro has a so-so video card, but it's not really worth the $600 more just to get a 1800, i'd rather just get the 1600 and upgrade on my own.

oh, btw, i did some of my own investigations and found this site:

http://www.nvidia.com/object/7_series_techspecs.html

which may mean that the standard cards are compatible with mac os x now.
---
This is Bowl *****!!! Come on man....I see these claims with absolutely NO, ZERO proof to back it up...Links? Pics? Video???? IF anything, MORE people have joined the FCP camp...because more people than EVER are buying Macs! Even though Adobe and Avid are cross platform, the affordability of FCP is a real bonus. Everyone I know that uses FCP and has been using FCP has ZERO interest in flipping. Unless you have an extreme PC...Adobe makes no sense (unless you are using the Quadro nVidia cards in a Mac Pro). Sure, the Merc engine increases performance for a few transitions and filters....but rendering is still necessary in MOST cases! Today's speed of the new Macs....MBP, iMacs, Mac Pros...makes the transition from AVC, XDCam, DVCPro, etc to Pro-Res, is actually a very speedy process. Even Canon stepped up last spring with a plug in to increase transition speed almost a 1,000% (used to take a minute or two to transform...now done in 10 seconds or less!!!). Once in Pro Res, editing is an absolute breeze...a cake walk, easy as pie:) Especially if you have a recent generation Mac from the last couple of years.


Seconding this. And also would like to add... What businesses out there can just switch operating systems on a whim because they latest and greatest came out for another platform? Sure if you are Joe Schmo freelancing out of your house you can do it, but any actual business with existing equipment doesn't just switch like that. I just can't picture anybody going "Damn Apple won't support the Mercury Engine, I'M SWITCHING BACK TO WINDOWS!!!"
---
Its the people that are getting so worked up, annoyed at Apple, threatening to dump the platform and move to Windows, claiming Apple are three months behind Windows systems and generally bitching.

agreed, 100%.
---